"We are the largest European manufacturer of laces and ribbons"
For more than one hundred years, LIASA, La Industrial Algodonera, SA has been dedicated to the manufacture of cords, elastic cords and ribbons for various uses. They offer more than 5.000 items for packaging, their main sector.
LIASA has been manufacturing cords and ribbons for more than a century, especially for packaging…
Packaging is our main sector and we are the largest European manufacturer. LIASA is a family business, with more than 100 years of experience, we export to the five continents and we started working in the packaging sector in the 80s. Our experience of more than 40 years in the sector has been transformed into knowledge to seek the best solutions to our customers. We started manufacturing drawstrings for luxury paper bags and our first customer was TEXIDÓ, which is still one of our best customers. We work on request and offer more than 5.000 items for the packaging sector; cords, elastic cords and ribbons in various materials, various designs, various diameters, various sizes and we give it a value-added finish. Our products are used as handles to hold and transport luxury packaging, as a closure and also as decoration. They are accessories that increase the value of the packaging and give it a greater image of luxury.

Are they overcoming the problems derived from the scarcity of raw materials and the energy crisis? Or is it still a worrying situation?
We are very loyal to national and European manufacturing and we have very little Asian dependency on raw materials. It is a philosophy that we have been applying and that we are clear that we want to continue practicing. Asian dependency is not sustainable and it is important that the entire packaging chain also understands it this way. Brands and consumers also have to understand it and we all have to continue along this sustainable line. Relying less on Asia has allowed us to better manage the shortage of raw materials and we have not had any production breaks for this reason. What we have indeed suffered is a significant increase in the prices of raw materials and energy, a worrying situation that once again reminds us of the importance of having more national production, in order to better manage our resources.

Its factory has more than 900 state-of-the-art machines. What do they allow you to offer your customers?
We do not stop investing in state-of-the-art machinery and in R+D+I, in order to offer our clients the best and most competitive products. Packaging is a sector that needs fast service and short delivery times, a large production capacity is a necessity to be able to offer a good service.
We are a textile company because we work with textile threads, but apart from the manufacture of cord, elastic cord and ribbons, we also manufacture polypropylene thread, we have presses that transform metal, we place metal terminals with automatons, we have injectors that place parts of plastic in the terminals automatically... we have a wide variety of machinery to be able to cover all the manufacturing processes and to be able to ensure a quality of service as quickly as possible, without depending on third parties.
This machinery also allows us to further customize products. We design products according to the needs of our customers and, by having all this machinery, we expand the range of development possibilities.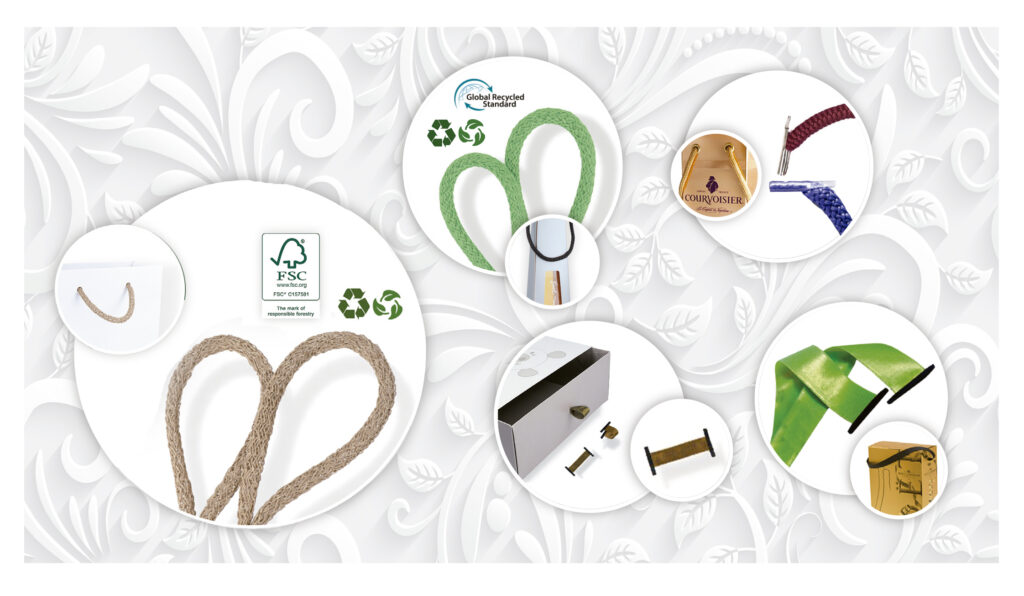 All their cords and paper ribbons are FSC® certified. What other materials do you work with?
From our R+D+I department, we have developed an innovative product, the manufacture of cords and paper ribbons with FSC® certification. We start with an FSC® certified raw material which is a paper thread and then we braid or weave it to make the cord, elastic cord or ribbon. It is a product that did not exist on the market and we have created it to offer our customers, who manufacture cardboard packaging, the possibility of offering a handle or closure made of the same material. In this way the packaging is mono material and facilitates its recycling.
We also work with cords made of polypropylene, natural cotton, recycled cotton, BCI cotton, jute, recycled polyester from plastic bottles... materials with different technical characteristics that cover the different needs of our customers.

What measures do you implement for a more sustainable production?
We are aware that we must put people and care for our environment at the center, that we must generate value for all actors. For LIASA, sustainability is the set of policies aimed at making economic growth compatible with the preservation of biodiversity, in order to avoid the degradation of the biosphere caused by human action. We work in an economic model of sustainable production and consumption of circular economy, where materials, products and/or services are designed to last and re-enter the industrial value chain once they can no longer be used.
Will they carry out any other project like the one they have carried out with the Packaging Cluster, the AEI Textiles and the Waste Agency of Catalonia?
We are in constant evolution and proof of this are the great projects that we have underway. We are an active member of the AEI Textils (Association of innovative textile companies) and we are participating in different European programs to develop products, digitize the company and be more sustainable. I cannot reveal some of the projects, but they are in line with seeking new solutions in a sustainable way. Two projects that I can advance are the implementation of solar panels, which is consistent with our commitment to the conservation of the planet, generating fewer polluting emissions, emitting less noise and saving energy consumption. And the other project is the digitization of the production plant, providing us with instant information on manufacturing and thus making decisions to improve the efficiency of the OEE and offer our customers a more competitive and faster product.

What are the market trends?
Depending on the market position of the brand, the trends are different. There are top luxury brands that are committed to design and others that are committed to sustainability. Our added value is listening to the needs of the client and proposing the best product to cover that need. Our clients also appreciate our knowledge of the sector; In some cases, they have asked us for some specific material that, due to ignorance, was not the most suitable to achieve the objective they were looking for. Our customer service team is focused on advice, not pure sales.

Do you have any release planned for this second semester?
We are developing new sustainable products and we are expanding the range of sustainable products that we already have. In the first case of developing new products, we are working on two projects that we hope to be able to launch by the beginning of next year. In the case of expanding the range of products, we are launching a new product every week. The communication circuit between the commercial department and the R+D+I department is very direct and we are rapidly covering needs that we detect from our clients. One of the great sources of information for presenting new products is our customers, active listening and our collaborative relationship is key to meeting their needs.

In your opinion, what is the situation of the packaging sector in Spain?
The situation of packaging in Spain is in very good health and companies are increasingly innovative, creative and exporting. In Spain, we are lucky to have large international brands that force the packaging sector to detect new trends and constantly innovate and invest. Spanish packaging is growing in exports and we are already one of the countries that the big brands keep us in mind. The pandemic, the difficult international transport situation and the difficulty in supplying raw materials have caused a European manufacturing trend in some Asian manufactures. The big brands are seeing that they can't depend on Asia and are starting to bring in some Asian manufacturing. It would be good and necessary for this trend to continue and for brands and consumers to be aware of all the benefits of these actions.

What position does Liasa have?
LIASA is a benchmark in the world of accessories for handles, closures and decoration for luxury packaging and we are the European leader. The big manufacturers always take us into account to be able to offer their brands innovative, quality and competitive products. They are also aware that, by collaborating with us, they have a partner that will offer them the latest trends, innovative products, at a good price and fast service. Our products are used by large luxury brands; LVMH group (Louis Vuitton, Moët, Henessy, Veuve Clicquot, Loewe, Dior, Céline, Kenzo, Chaumet, Sephora…), Gucci, Armani, Prada, Valentino, Ferragamo, Zara, Mango, Massimo Dutti… luxury brands know that Working with us is a guarantee of quality and service.

What goals do you have in the short-medium term?
As a family business, all our projects are thinking about the medium and long term and we are very clear that our greatest asset is people. Our priority is to have a motivated, trained and proactive human team. We are currently implementing a new production ERP and we are modifying the functional organization chart by incorporating the figure of a supply manager. We make these changes by listening to the opinions of our workers and promoting our team. We are 50 people and we have a fairly horizontal structure, but we are always thinking about how we can promote our workers and train them to grow professionally and personally. In defining our values, we are clear that customer orientation is achieved by working as a team, with commitment and a lot of passion.