"We not only design, we provide differentiating value to companies"
Mediactiu is an advertising agency in Barcelona, ​​specialized in graphic design and branding, that has a multidisciplinary team that is involved in global projects, working closely with its clients.
When was Mediactiu created and why?
Mediactiu was created in 2001 in Barcelona as a result of a clear desire to offer the best personalized service related to all disciplines of graphic design to our clients. Our motivation and drive to create the agency resided in the idea that we are capable of adding value to companies, we do not just design.
We are committed to making available to our clients great added values ​​such as strategy, creativity and careful and effective visual communication in all its formats and applications (on / off line).
All this with a great vocation for service, direction and customer advice. It is the hallmark of our agency.

As an advertising agency and graphic design studio, what services do you offer?
Since our beginnings as a graphic design studio, we have been very sensitive to the needs of our clients, this has led us to currently offer global solutions that include marketing, commercial and communication strategy, branding creation, catalog design, design graphic, web design, photo and 3D video and packaging. In addition to this wide range of services, we also develop projects for the design of stands, showrooms, brand applications in spaces, exhibitors and POS. And we take care of productions, handling, logistics and facilities. Always maintaining a personalized treatment and an agile service.

What is packaging for Mediactiu?
For Mediactiu, packaging is one of the best opportunities that a company, product and even service have to encourage customer purchases. Let's not forget that, according to statistics, up to 82% of purchase decisions are made on the shelf. Companies only have three seconds to shine, to stand out from a competitor right next to them. Let's highlight an important aspect: the design of the image of a product can bring you closer to your target audience or permanently move you away from it.
It is clear that what really matters is the product itself, but it is no less true that users have a very wide offer and spend less time making the decision to buy or not. Therefore, it is absurd to gamble in the last step of the sales process with bad packaging.
Self-demand and professionalism have led us all these years to be considered a graphic design agency that offers solutions tailored to each need, that understands and is really involved in the intrinsic needs of each project, providing the added value necessary to adapt to the challenges of each project and to be able to transmit its objectives. The multitude of projects that we have developed with popular and prestigious brands in Spain and internationally, from sectors such as retail, industrial or food, endorse this.

What criteria do you prioritize when designing packaging?
The first thing I want to highlight is that our solutions are fully adapted to the client and the sector to which it is directed. We don't just design. We provide real sustainable value and continuous advice on all aspects of image and commercial communication during all phases of the project.
We start from the analysis of the objective pursued, the sector and the target to offer an optimal solution with the aim of designing a container, pack or any type of packaging that complies with the established briefing and above all the objectives set. In fact, there is one of the keys to our way of working.
We like to work side by side with companies. We become your true partner, in your external department, we soak up your business culture and we want to know everything. We must know in depth the brand, its values ​​and also those of the competition. Colors, messages, formats, materials, processes, etc. If we want to achieve the best design of a container, absolutely any detail matters.

It is important to document yourself ...
In this first phase that we could call analysis, prior to the design itself, we immerse ourselves in what is happening in your sector in Barcelona, ​​Spain and the world. It is essential to know the needs of users - who must be at the center of the entire process - and, of course, also those of the market, demand and supply. This preliminary approach allows us to detect opportunities to grow a product with new families or product ranges and achieve the maximum possible sales.
With this idea what we seek is to stop being invisible, to like, attract and fall in love. The objective is none other than to leave a mark on the perceptions and preferences of a client, that they use the product and, of course, that they repeat! However, there are other variables that we work with with special dedication. Functionality, reuse and recycling. Can not it be a different way.

How important is the illustrations? And to typography?
All. We are convinced that all the components that are part of a product tell us something. Colors, shapes, sizes, typography, material ... These applied in the right way mark the character and position your product offering in tune with the target we are addressing. The use of one or the other resources and even the assignment of protagonism will be very guided by the briefing itself and creativity. Within our degree of demand, typography is always one of the elements that we try to bring more originality and character to the products we design and, with an illustrator on the team, this is also another resource that we pamper.
More than twenty years working in the packaging, creativity and graphic design sector has allowed us to see opportunities, innovate and shape dozens of products.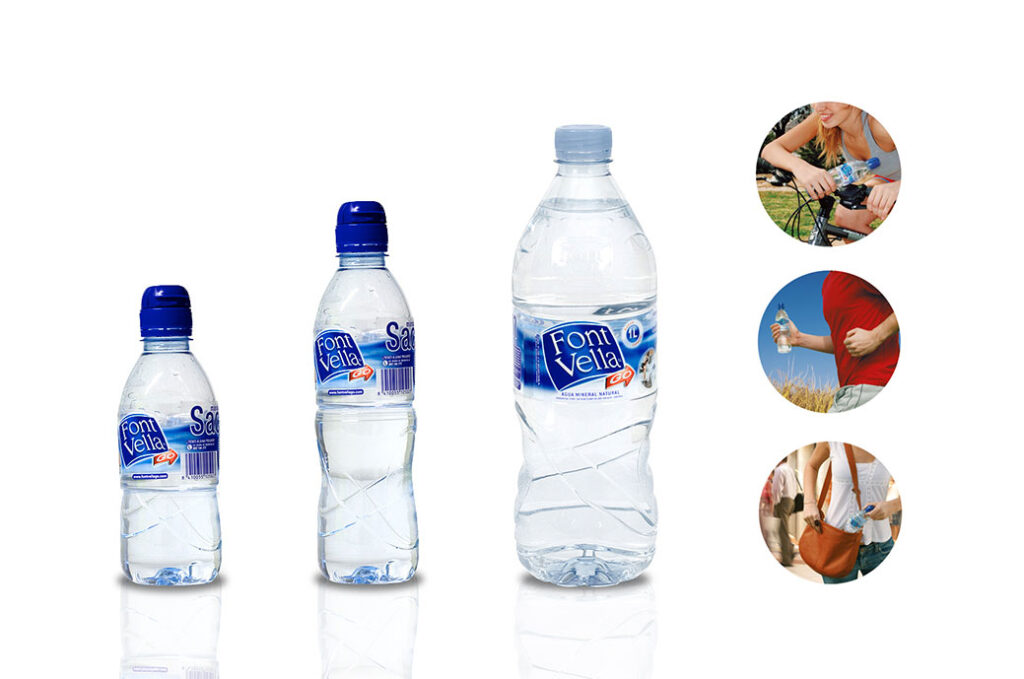 Among your packaging projects, which ones would you highlight? Explain two to us briefly.
It is difficult to choose one because the passion and dedication invested in each and every one of them has always been the same.
Perhaps for the general public brands such as Fontvella and Trident will be more recognizable.
For Fontvella we carried out a beautiful corporate identity restyling project, we remodeled its 50 and 30cl containers, redefining the style and graphic concept of the labels and all their graphics and applications.
In the case of Trident, we create countless packagings and graphic designs for facings, some of them still in force and even the Sphere (spherical container) that has become the brand's most emblematic container.

Were they responsible for the entire direction of both projects?
To make these projects possible, we took charge of the entire project management, conducting market studies, analysis, briefings study and development of digital proposals (3D renderings) in order to determine a new product packaging for its commercialization in retail and large surfaces. Developing real-size physical models, creativity, concept development, photo shoots, Focus groups, market tests, pre-press, production tests ...
A few years ago a client presented a container to different national and international competitions, managing to win them all. For the industrial sector we have also made very effective and efficient packaging.

Do you consider yourself specialists in some specific sectors?
No. We are specialists in making the packaging that the customer really needs. In fact, we are totally polyvalent and versatile and we carry out projects for any sector. And this gives us a greater perspective and possibility to innovate. We have developed many packaging projects for the industrial sector, many in the hands of Schneider Electric, the world's leading multinational in the electricity sector with whom we have been working for more than 20 years.
The satisfaction achieved thanks to the projects developed with Schneider Electric, and a great variety of its brands, has allowed us to create a precedent in the agency's own history. And it has given us the opportunity to be referenced internationally.

Are you applying ecodesign measures? What other measures are you implementing to enhance sustainability?
Under the strict concept of ecodesign we have been able to work on industrial product packaging, using a single ink free of elements harmful to the environment (lead, mercury or other harmful chemicals), we have used recyclable and reusable materials, avoiding plastics (or minimizing their use when there is no alternative) and in some cases we have even produced the containers with printers in locations close to our clients' production plants, with all this we contribute to reducing the carbon footprint.
There is only one way to move forward, adapt to changes and know how to delegate to achieve goals.

¿How are new technologies influencing design?
It is obvious that new technologies are a fantastic tool for the development of any application that is based on design and production.
It is inconceivable to work without these tools, they provide flexibility, expand possibilities, speed and the effective realization of a very wide range of projects.
However, let's not forget that they are only a tool. What really adds value is talent, creativity and experience. It is useless to have the best devices or software on the market if you do not know how to use or extract the maximum possible performance from them. Or if there is no good analysis and creative minds behind the project to develop it.

And omnichannel?
It is fundamental and differentiating for companies that are investing in omnichannel, giving them greater commercial efficiency. Because they create closeness with the customer, generating a better shopping experience and help them to know and serve them better. And this is achieved through a good and consistent implementation of branding, a marketing and communication strategy that unifies all communications and on / off line channels and keeps them alive.
It may seem that omnichannel is one more way to focus the commercial actions of companies, but nothing is further from the truth, this is a necessity to be relevant in the current and future business landscape.

How has the pandemic affected?
The situation has led to the use of solutions that existed but that due to inertia were not used or were not used correctly. The pity is that despite how necessary it is to take "new paths" there are still few companies that are doing so with a firm commitment and not only in digital solutions, but also in commercial strategies, marketing ... Our business society lacks understand that marketing, graphic design, RRSS, are an investment (and not an expense) that must be maintained over time and not eliminated when the "lean cows" come.
For some companies, the pandemic has been the impulse that has made them evolve towards more efficient commercial actions, from updating their branding to creating new product lines and attacking new channels, not only digitally through the creation of websites and ecommerce, where we have also developed virtual platforms to make business presentations. Also opening new distribution channels, generating new commercial approaches directing offers directly to the end customer with everything that is required to act in retail and large surfaces.
A crisis can be the impetus to try new ways of doing things and improve.