"We take care of the entire product launch process"
Solution to is an agency specialized in food for consumption and channel, based in Madrid and with more than ten years of experience in graphic and web design, communication and marketing.
Why was Soluciona CG created and what services does it offer?
The year 2011 was a delicate time. However, we had the strong conviction that creating something from scratch, based on our experience and our deep dreams, would allow us to achieve our professional goals.
During these almost eleven years, our company, Soluciona CG, has been adapting to the needs of the sector and customers, changing the business model.
In its beginnings, it focused on graphic production and design, while, in recent times, it has focused on marketing and digital communication. We must not forget that we have never neglected something very important to us: packaging design, the creation of fictitious advertisements and the image and creative design in all its breadth.

It is surprising that they provide such a wide range, do they cover the entire process of launching a product?
It is one of our maxims: to cover all the necessary steps carried out by each department in a company for the success of a product. We support the creative department by making the design they need a reality, the marketing department by creating both a post on social networks or a landing page as well as a fictitious one to show the product in pre-production, and the retail department by generating the image they need at the point of sale. such as exhibitors and posters. Thus, we take care of the entire product launch process and thanks to our interdisciplinary human team.

What are fictitious and what are they used for?
The fictitious ones are exact replicas of a real product, it can be one that is sold in the trade or one that you want to market. At Soluciona we are specialists in real product presentations, we make liquid containers, food replicas and their original packaging, sausages, cheeses, fuet, cured meats, etc.
Our real fictitious for consumer products are mainly intended for use in advertising spots, exhibitions, events, consumer tests and sales department.
The fictitious ones are the perfect support to: test the new image of the packaging of a product before the launch; avoid unnecessary brightness in photo sessions and advertising shoots; marketing actions for the presentation of future packaging designs and as an exhibition for fairs and Road Shows (traveling events in different geographical areas to give visibility to brands and attract more customers).

Why are fictitious and not real products used?
The fictitious ones are used and not a real product because the containers taken from packaging factories, in most cases, have defects, the camera plans are not adequate, since they have excess brightness and their handling for the production department she `s complicated. Our fictitious containers are easy to handle and very attractive to the consumer, since they are perfectly made.
Another advantage is that they normally do not contain product inside, unless the script requires pouring said liquid, in which case we use another method of production by lining the original container.

Are there many companies specializing in fictitious?
According to our market research, there are not many companies dedicated to making fictitious advertising. Considering that its realization is a completely manual job and it is necessary to have great knowledge in materials and types of printing, it is normal that there are not too many companies specialized in them.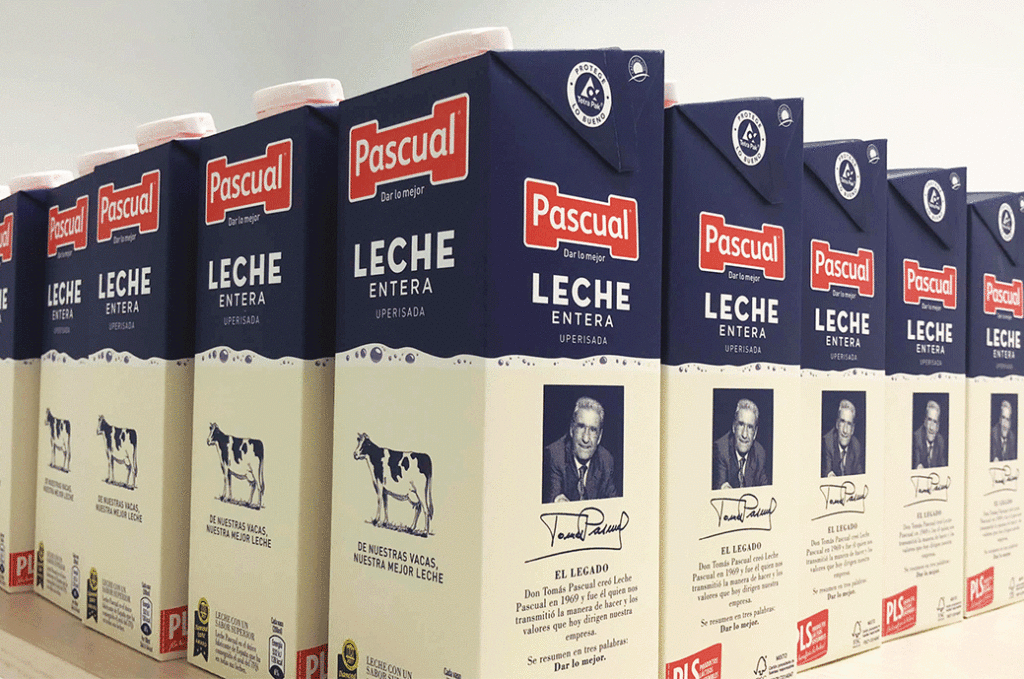 In digital design and e-commerce, what do you think are the keys?
Communication is the key in any creative process, and includes these two aspects. Organize ideas and express them visually through a code and a series of guidelines with a purpose, that is, the need and objectives of the business. Therefore, the keys lie in the usability offered to the end user in terms of the ease of carrying out online processes in an orderly and consistent manner; and it is also vitally important to take care of good design: the harmony in the layout of the elements, the range of colors (very relevant when drawing attention with the CTA), the typologies used, etc.

They are specialized in food. How has communication evolved in this sector in recent years?
It is evident that the way of reaching the consumer in mass consumption food has changed a lot. Currently, digitization has opened the door to the consumer so that they can not only compare products, their characteristics, prices and opinions much more easily, but also to access them through new ways such as online shopping, new forms of payment, etc. In contrast, in retail food it seems that the formulas are changing at a different pace. We bring innovation to brands so that, thanks to digitization, they connect not only with consumers, but also with their distribution channel and Horeca. We are also a safe bet for the Trade Marketing departments with whom we have been working for several years, and whose strategies are key in the value chain of their companies.
Sustainability, new consumption habits, concern for healthy eating and, among others, the boom in alternative proteins, are the fundamental factors on which the big brands we work with at the moment focus their content and strategies.

Events are coming back... Is that right, companies are betting on face-to-face actions again? Or has the current international context once again "stopped" the holding of fairs and special events?
At Soluciona CG we have noticed, through our production/assembly department, that there is indeed more movement in product presentations and in the generation of events to communicate news and special dates.

How do you see design and graphic communication in our country?
As we said before, the line of business in our company has changed. Our volume in the graphics branch is down 60% from the start of Soluciona CG to the present day. The marketing and communication departments use most of their annual budget to carry out their actions in the online environment (digital spaces, animated pieces for social networks, etc.), without neglecting graphic design, but this is more focused on the institutional part such as, for example, annual reports, brochures and corporate image, etc., but with short print runs.

What are the latest packaging projects you have carried out?
We have generated fictional films for Navidul, Vivesoy; and in packaging design we have designed the Brut Nature cava label for the Martinez Paiva winery. In all of them, the result has been spectacular and the client has been very happy, in fact, we already have new orders thanks to it.

Is it a service that you plan to promote?
Yes, of course, we are totally committed to expanding our portfolio with respect to fictitious advertising. The fictitious is a product that works very well but it is difficult for the client to understand its great utility and generates mistrust until they see it in situ. When he finally has it in front of him and checks how real it seems, he always repeats.

What are your short and long term goals?
We have always been very clear, and especially in the sector in which we operate, that we must be realistic with the client in what we can and cannot achieve. In this way, our goal is to continue to be recommended by our clients as a resolute and serious agency. As our name indicates, we love to solve the challenges that arise on a daily basis.