"Our reason for being is the care and well-being of people"
Santiveri has been concerned with care and well-being for more than 100 years. With a new image and logo, they are in the process of transforming the brand with Summa Branding.
Briefly explain the history of Santiveri. Why was he a pioneer?
In 1885, Jaime Santiveri Piniés, a merchant of Aragonese origin concerned with the care and well-being of people, opened the first store of natural and dietary products in Spain, sowing the seed of what after more than 135 years is still the Santiveri brand. For health reasons, Jaime was very knowledgeable about natural healing systems, since he himself had overcome a serious illness with this type of therapy. So, with determination and enthusiasm, he transformed his small textile business in the Gothic quarter of Barcelona into a pioneer store in the distribution of natural products for health care.
Over the years, the store has evolved, facing economic crises and national and global conflicts, without losing strength and the desire to continue growing. Today, and after five generations, at Santiveri we have close to 7.000 points of sale in Spain and 183 stores, we also export our products to more than 40 countries around the world and we have a subsidiary in Italy.

What is Santiveri's philosophy?
At Santiveri, our reason for being has always been the care and well-being of people.
Generation after generation, we have dared to innovate with ecological, vegetarian proposals and food supplements when nobody else did. Creating products for comprehensive well-being, sharing our way of understanding life.
We believe that taking care of yourself goes far beyond losing a few kilos or monitoring your health. Taking care of yourself is feeling good with yourself and with the rest. Without giving up anything, discovering a new world of possibilities. With desire, positive attitude and good habits.
In short, at Santiveri we are guided by a purpose: to promote a society where people feel better, offering healthy and innovative solutions available to everyone.

Its products are distributed in its own stores, healthy food stores, health food stores, supermarkets, online… How is the billing distributed among the different channels?
Our main sales channel is specialized stores, where we have a large presence in health food stores, both in our range of foods and nutritional supplements. In addition, we sell many of our food products to supermarkets and hypermarkets.

Santiveri is a group with an international presence. Is Spain the most important country? Where are they best positioned?
Yes, Spain is our country of reference, although we export to more than 40 countries, with Italy, Saudi Arabia and Mexico being three of the most relevant countries.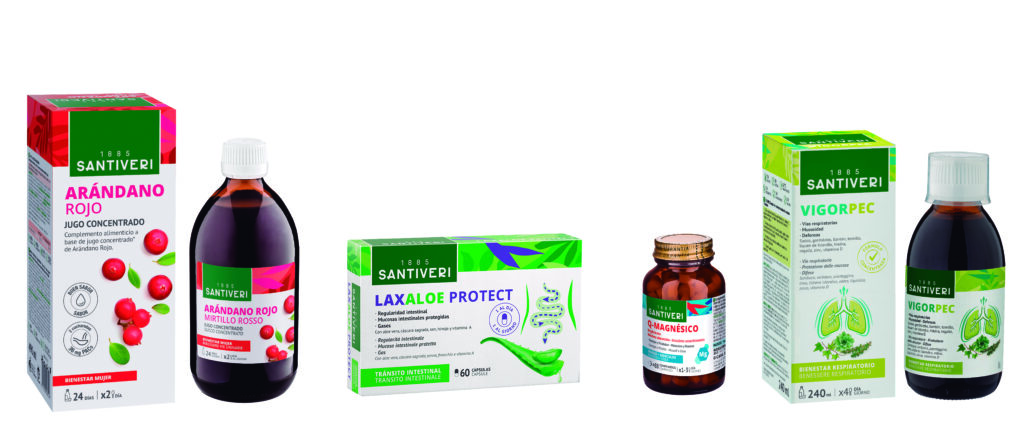 What are your star references? Is Dextrin Bread one of them?
Yes, Pan Dextrin is the company's flagship. In fact, we are very proud that it is the leading toasted bread in Catalonia.
In the food category, we also have many other products that work very well for us, such as our 0% digestive biscuits, as well as a wide variety of toast and pancakes.
With regard to food supplements, we have several top-selling products, such as our Sueño capsules, Cranberry concentrate, our Artrosín liquid collagen or a natural laxative such as Laxaloe.

It is a well-known brand, but perhaps less so for the younger generation. Do you have a new strategy planned to expand your target?
For this reason, in 2021, we started a brand transformation project hand in hand with Summa Branding, with the aim of defining the meaning of Santiveri, its value proposition, values ​​and its identity in every way to bring it closer to younger generations. young, but without losing our usual consumer.
All this, moreover, is accompanied by a new communication and media strategy that will also help us connect with those audiences that are now a little further away.
Santiveri is a unique brand because it has been concerned with care and well-being for more than 100 years. This has always been our will and now the time has come to recover our space and communicate it to the whole world.

In September they release a new image and a new logo. Why have you decided to change and what characterizes this new stage? What do you want to convey?
Not only do we release a new image and logo. We have transformed Santiveri!
As we said, since January 2021 we have been in the process of transforming the brand together with Summa Branding.
In all this time we have worked on everything that has to do with the meaning of the Santiveri brand and, therefore, the change of logo is only one part of this project. When defining our values, territory and purpose, we needed a brand that was up to the new meanings, and a brand that, without losing its essence and recognition, would also solve the needs and challenges that we face today; different applications, formats, a rich and complete visual system, a recognizable tone of voice, etc.
This process of "the new Santiveri" has also helped us to define how we can make our purpose a reality, what initiatives we should launch and how we can be a more honest, simpler brand and attract more audiences. And one part is, of course, the redefinition of our logo, our stores, the design of our packs and, above all, our way of approaching and connecting with consumers.
All this, moreover, without losing our essence or our reason for being. We have been a "sleeping giant" for a long time, and the time has come to wake up.

By changing the logo, do you plan to renew the packaging of your entire product catalog? Will it be progressive?
That's right, the redesign and renewal of all our packages is also part of this entire transformation process that we are experiencing and that excites us.
The change of image on the shelves will be progressive and the process has been to start with those references that are top sellers in both food and food supplements. And little by little we are moving forward with the rest.
In fact, you can already find some of our packs on the shelves and, so far, the feedback has been very positive!

What importance do you attach to the packaging of your products? In addition to its main function, which is to protect the product, do you think it is an essential means of communication with the consumer?
For any food and mass consumption brand, packaging is one of its most important and relevant touchpoints. The war on the shelf is huge and it takes less than 3 seconds for people to choose which product they want to buy, therefore we needed some very powerful and unique packs.
For Santiveri, the pack is a key element of communication, but we have to define what we ask of it and what not, because it cannot communicate everything. In our case, it was clear to us that we were looking for clarity, brand recognition and appetizing food or communication of benefits in supplements. With the Summa Branding team, we worked first of all on a new front of pack architecture that would make sense for all Santiveri products and that would give clarity and coherence to our more than 400 references. We defined a transversal brand block for all the products to be much more recognizable on the shelf and to have a "brand stain" always the same that would give us transversality. And based on this, we redesigned the packs thinking of a structure that could be as monolithic as possible in any of the Santiveri categories.
The project has not been easy, but months later we have achieved some packs that meet everything we wanted; a clear structure, palatability/benefit and brand visibility. And in fact, this is how the consumer has recognized us, since in a test we did they confirmed that there is a greater intention to purchase and more brand recognition compared to the current packs.

What measures are you implementing to make it more sustainable?
At Santiveri, we are committed to health care and the comprehensive well-being of people. And that includes respect and care for the planet.
We use a wide variety of materials to pack our articles (glass, plastic, metal, paper...) depending on different factors such as: type of product, need for specific physical barriers for conservation, packaging line, etc.
In reference to plastics, our packaging and films are more than 80% monomaterials, in principle, easily recyclable (pet, pp, pe).
In any case, we are not satisfied with that, and we are carrying out several studies to be able to change those films in which, due to various needs, until now we have not found a way to improve recyclability.
On the other hand, in recent years we have eliminated superfluous plastic (external packaging) from the products that carried it. For example, in blister packs the change is already 100% effective and we are working on making it real in infusions. This has meant, in some cases, such as infusions, changing the cases so that the safety of the product is not affected.
We are also reducing the grammage of some of our packaging elements, prior tests to check their proper functioning in the different production lines, their suitability at a food safety level and ensure that we maintain the high levels of quality that we always demand of our products.

Do they take into account the use of recycled materials and that they are in turn recyclable?
Today, more than 90% of our cases are made of recycled cardboard, and we have changed our cookie trays from PVC to PET (improving recyclability) with a percentage of between 80% and 100% recycled material, depending on the models.
Our packaging boxes are also mostly made from recycled cardboard, and in some cases we are FSC certified.
Right now we are looking with our plastic film suppliers for the possibility of adding a percentage of recycling to reels and other plastic containers. It must be taken into account that making this change implies an increase in the prices of materials and a high cost in tests.
Regarding the vegetable beverage cartons, 80% are biobased and with FSC-certified paper.
Those that we have left to change, we will have them on the market in a few months.
As a company we do not limit ourselves to a single field of improvement, we study all the opportunities in which we believe we can be successful, although sometimes the results are not as expected and we have to temporarily give up some sustainability projects in packaging, waiting that new materials emerge and/or improve current recycling systems.

Do they have any certification?
We work with FSC-quality paper and cardboard whenever possible, and use recycled materials wherever possible.

Do you plan to launch new products in this second semester?
In recent months, we have launched new references on the market, both for food and nutritional supplements.
We are especially satisfied with the Double Zero Biscuits, a very innovative product, as they are the only biscuits for adults on the Spanish market with no added sugars and no sweeteners.
In addition, in food, we have also launched new organic pancakes with toppings.
And in food supplements we are also very active, highlighting the launch of the Cannabiactive Forte range, which is made up of a cream with CBD and a supplement based on PEA and cannabis oil. They are two products with ingredients that help combat muscle-articular pain.
We have also launched Laxlino, a product designed to improve intestinal transit. And in October, we will launch Sueño Forte, aimed at favoring not only the quality of the hours of sleep, but also the quality of our awakenings. With this launch, we expand our range for rest and relaxation, to offer better and more complete solutions to the consumer.