«With our packaging, we are constantly looking for improvements to reduce the impact on the environment»
Heura Foods was founded in 2017, in Barcelona, ​​to be a social mission turned business and empower people to change the current food system for a more sustainable, healthy and nutritious one. They offer 100% plant-based meat products made from soy or pea protein, which "breathe" heritage and gMediterranean astronomy. Currently, Heura is in more than ten countries.
Vegetables, sustainable and healthy, with flavour, Mediterranean… are these the words that define Heura?
Yes, with some change: 100% vegetable (or plant-based), good rebel, protein transition, sustainability and nutrition, flavored, Mediterranean.
What are the arguments in favor of a plant-based diet?
Plant-based nutrition represents a win for everyone: for our planet, minimizing the use of resources and significantly reducing the environmental impact. For animals, taking them out of the food equation. And for consumers, by offering products that are healthier than animal-based alternatives but just as delicious.
Why give up meat and choose vegetable substitutes?
We like the taste of animal flesh, what we don't like are its consequences. People have the power to change the world at least 3 times a day, every time they choose what to eat. We are committed to a change in the food system, for a more sustainable, healthy one that also avoids animal suffering.
Do you think that the consumer is really changing and is more aware or is it just a fad?
Plant-based products are here to stay. A Bloomberg Intelligence report, titled Plant-Based Foods Poised for Explosive Growth, said plant-based foods could account for 7,7% of the global protein market within a decade. People are changing their consumption habits and are increasingly prioritizing sustainability, health and ethics when consuming. Hence the growth of the category.
In addition, it must be said that vegetable meats are not only aimed at a vegetarian or vegan public, they are an alternative for people who want to reduce their daily meat consumption and want to join this protein transition.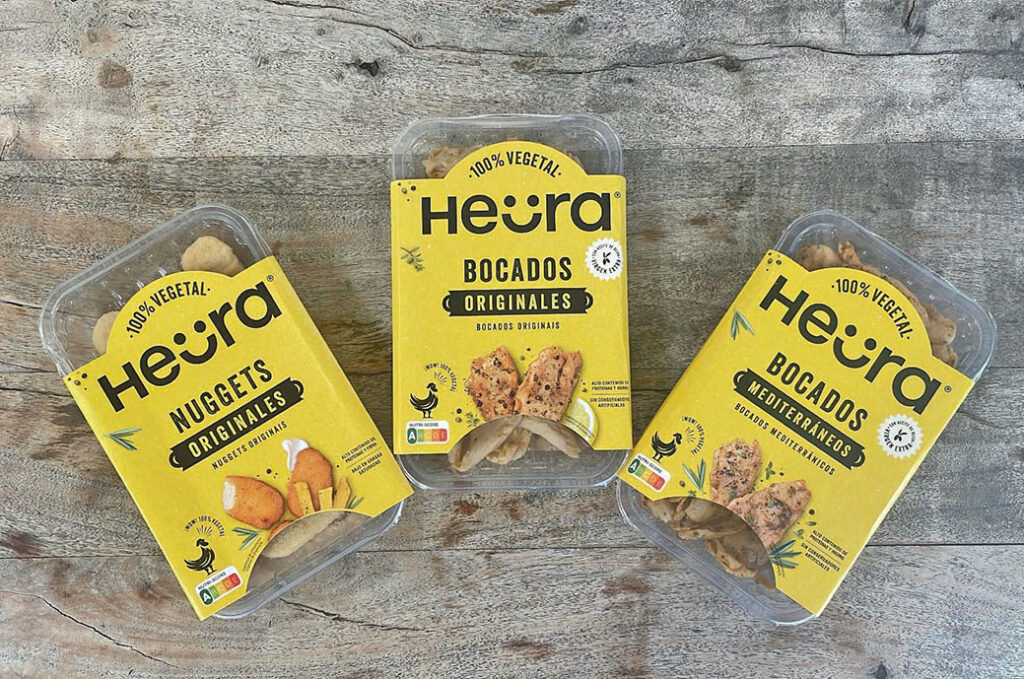 What do you want to convey with the packaging of your products? Why is it consistent with the brand message?
Our packaging has been evolving since the beginning and will continue to do so. It is the reflection of our search to continuously improve and to be able to offer the best options we have, up to now. If we see that something does not work or that there is a better version, we look for evolution.
Mainly, the help of new technologies allows us to have packaging made of more sustainable materials and reduce the impact of our products. This is key to be able to carry out this work.
What materials do they use?
In 2021, we launched our refrigerated products with trays made from 92% recycled rPET plastic, realizing in a study that our cardboard tray to date had the greatest impact on the planet. We decided to remedy it, and work on the development of a more sustainable tray. What are the next steps? Stay awake, and keep working to be able to have a more sustainable packaging.
Are the containers easy to recycle?
Separation of our packaging components is easy to recycle. Tray and lid to the yellow container. Sash and Case containing blue. That easy!
Could we say that they apply sustainability both in the production of products and in their packaging?
Heura is a mission turned business: we want our products to be as sustainable as possible from start to finish and in every aspect. From the choice of raw materials to marketing and of course the packaging. And it is that consuming a Heura burger instead of a beef burger means reducing 1.739 liters of water, the water used by a person when showering for 28 days, and 6,4 Kg of Co2 emissions, the same as driving more than 5 laps in Montmeló.
As for our packaging, we are constantly looking for improvements to reduce the impact on the environment of both the materials and the manufacturing process.
Regarding the design, do you work with an agency or is it an internal development?
We work on the branding part in-house, with our design team. Regarding packaging development, we work with the agency that has been with us since the beginning of the Heura project.
How did the idea of ​​the logo come about, in which the u turns into a smile?
We wanted to create a positive movement, from information and options. That is why we believed that the smile was an element that reflected this. In fact, one of our values ​​within the company is: We have good vibes. We spread positive energy and enjoy working as a team.
Are you working on new projects? Do you plan to launch any new products this year?
We are working to reach more and more homes both nationally and internationally and, in terms of product, we are cooking up 10 new projects for 2022 that will see the light of day throughout this year.