"Mayoly's mission is the commitment to the health of its patients every day"
Laboratoires Mayoly Spindler is a French company that is an international benchmark in gastroenterology and dermocosmetics, present in more than 70 countries. In Spain, they started their activity in 2015 and market the dermocosmetic brands Topicrem, Beauterra and Kaidax.
Laboratorios Mayoly, of family and French origin, has a long history. Since when is Mayoly-Spindler? What is your mission?
Mayoly is a French, family-owned and independent international pharmaceutical laboratory, founded in 1929. Present in more than 100 countries and with more than 2.200 employees worldwide. The strategic axes of development for Mayoly are gastroenterology and dermocosmetics, although we work in therapeutic areas such as rheumatology, ENT, diagnosis or Health Care products such as probiotics and nutritional supplements. Mayoly's mission is, without a doubt, the commitment to the health of its patients every day.
What is the role of the scientific associations associated with Mayoly Spindler Laboratories?
We work closely with various healthcare specialists, physicians, paediatricians, pharmacists, dermatologists around the world, scientific associations, as well as hospitals on research and treatment in various therapeutic areas. I would highlight the work carried out together with the Necker Children's University Hospital in Paris, which is a world benchmark in the investigation of dermatological skin conditions of genetic origin, where we have several programs focused on less frequent diseases such as Ichthyosis, albinism, vitiligo, which has helped numerous children improve the quality of their day-to-day life and feel good in their skin.
They are present in more than 70 countries. In Spain, they started their activity in 2015. What does our country represent for Mayoly?
Mayoly actually arrived in Spain in 2015 with the acquisition of some dermocosmetic products from Laboratorios Thea. Initially it focuses on the activity of medical visits for a couple of years after starting the visit to the pharmacy.
Spain represents a strategic and very important potential market for Mayoly in the coming years. Currently, only the Mayoly dermocosmetic brands are marketed in our country (Topicrem, Beauterra and Kaidax) and no drugs or other Health Care products such as probiotics, but the idea is to develop the Spanish market, to be able to expand the business lines and convert to the subsidiary in one of the most powerful in Europe.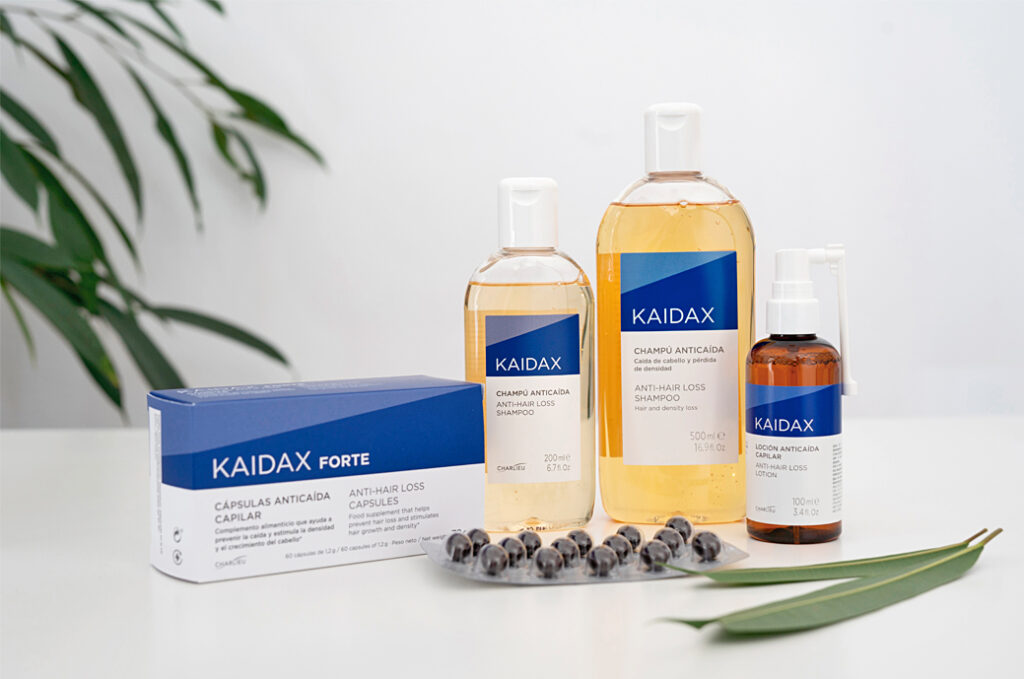 They produce medicines, dermo-cosmetic products, food supplements and medical devices. What percentage of your billing corresponds to each segment?
The majority percentage is that of Consumer Healthcare, probiotics, food supplements and OTC drugs account for 50% of our turnover. Gastroenterology drugs, origin of the company, today account for 30% of the global figure. Dermocosmetics, 10% of the turnover. Our entire diagnostic business line accounts for 5% and finally the remaining 5% comes from manufacturing to third parties, since we have five production centers in France.
They have the Topicrem dermocosmetics, the Kaidax hair line, and BeauTerra. Can you briefly define the three brands?
Topicrem, dermatological brand, intended for sensitive skin of the whole family. It represents the dermatology of well-being. Topicrem is characterized by its scientific rigor, the purity of its active ingredients and the effectiveness of its formulas, together with sensory galenics that allow the well-being of the patient or consumer. Topicrem provides innovative responses to different skin disorders, from the most dermatological ones such as atopic dermatitis, actinic keratosis or acne, to the most cosmetic ones such as hyperpigmentation and aging.
Kaidax is the specialist brand in hair loss. Formulations born from the work of 10 dermatologists, to guarantee maximum effectiveness in cases of androgenetic, reactional or postpartum hair loss.
Beauterra is the newest brand from the lab. A sustainable brand from its formula to the packaging, which meets all the requirements of a natural, vegan brand, with Bio certifications through the most demanding organizations such as Ecocert. A family brand that combines large formats at an affordable price for the first time in an Eco brand, without sacrificing maximum efficacy and sensoriality in hair, body and intimate hygiene products.
Dynamic brands that provide innovative solutions to the different needs of the consumer, as well as skin and hair.
Are they only distributed in pharmacies?
Yes, only in authorized pharmacies and parapharmacies.
How are they positioned in our country?
Currently the most established brand is Kaidax, since it comes from Thea Laboratories and has been prescribed by dermatologists for years due to its high efficacy and very complete formula in solving hair loss. Then comes Topicrem, where little by little we are consolidating in the Top 15 body hydration brands in our country, since this is the main pillar of the brand and its expertise. Beauterra is a brand that is now one year old in Spain and that little by little is positioning itself as a benchmark in Spanish pharmacies, as a natural, family-friendly sustainable brand with exceptional value for money.
How important is your packaging?
Packaging is extremely important right now for Mayoly. Innovate in it, provide formats adapted to the needs of the consumer (large formats, with a dosing pump or refillable formats). Consumers are increasingly demanding innovative, comfortable and, above all, environmentally conscious packaging.
What materials do they use? Do they take into account their subsequent recycling?
In the Beauterra brand we already have a brand where all its packaging is recycled (97% of plastic) and recyclable. At Topicrem all packaging is recyclable and we are working so that it also comes from recycled plastic. It is essential to be able to provide, to the consumer and the environment, the solutions that are required at this time in a committed manner and aligned with the values ​​of our brands.
Are they taking ecodesign measures into account? Do you work with external designers or do you have your own department?
This axis is strategic for us. We have our own department that works with different trusted suppliers, to demand a design and solutions at the packaging level that even anticipate the new regulations.
Do you have a sustainability plan? What measures do you carry out to improve the environmental impact of your production and your products?
Indeed, Mayoly is very aware and has a well-drawn plan for sustainability and eco-design of products. Proof of this is that we already have some ranges with Bio certification. To obtain this certification, one of the requirements is to reduce CO2 emissions as much as possible and, therefore, cultivate and manufacture within a short distance. Our development axis leads us to be able to reformulate our products to guarantee a percentage of naturalness higher than the current average (above 90%) and also improve manufacturing and logistics processes to minimize our footprint on the environment.
Do you plan to launch your brands this year?
Yes, we have a very dynamic innovation plan in 2023, with 24 new products among our three brands, which shows our dynamism and demand.
What objectives are set in the short and long term?
In the short term, Mayoly laboratories are focused on being able to become one of the benchmark laboratories in European Health Care, as well as being able to expand the product catalog with the acquisition of new brands that contribute different lines of business and innovation. In the long term: 2027 goal, reach 600 million worldwide turnover and become a benchmark in health.