"In 2025, 100% of our packaging will be recyclable"
Shiseido is one of the world leaders in cosmetics present in more than 120 countries, with an extensive portfolio of international beauty brands. Between them, Shiseido, founded in Japan in 1872, which offers products with innovative formulas that meet the most demanding aesthetic criteria in Asia and the West.
Can you briefly summarize Shiseido's philosophy for us?
Shiseido are 3 kanji whose meaning is: "the house that contributes to improving the quality of life".
At Shiseido we want to "Innovate in beauty for a better world". We invite you to rediscover our strength and beauty to illuminate everything around us, advocating diversity and empowerment through that inner beauty and thus help transform society.
The vision of Shiseido and J-Beauty has always been to achieve homeostasis, to help the skin achieve its self-regulation, its constant balance despite the aggressions it may suffer. For this, the research approach has been to treat the origin of the problems and not their symptoms. A unique approach to research that exceeds industry standards and that gives us great recognition at a scientific level, being the most awarded brand with the IFSCC, the Nobel Prize in cosmetics.
Lhe Japanese culture and spirit are an inseparable part of Shiseido's DNA...
Of course. In fact, we pride ourselves on combining the highest level of scientific knowledge with the Eastern philosophy of Omotenashi, the tradition of hospitality that places the customer at the center of everything we do. Each of our rituals is a sensory experience that reflects the balance between the spirit and the beauty of the skin. Shiseido's aesthetic sensibility is not something superficial, but also encompasses one's inner beauty.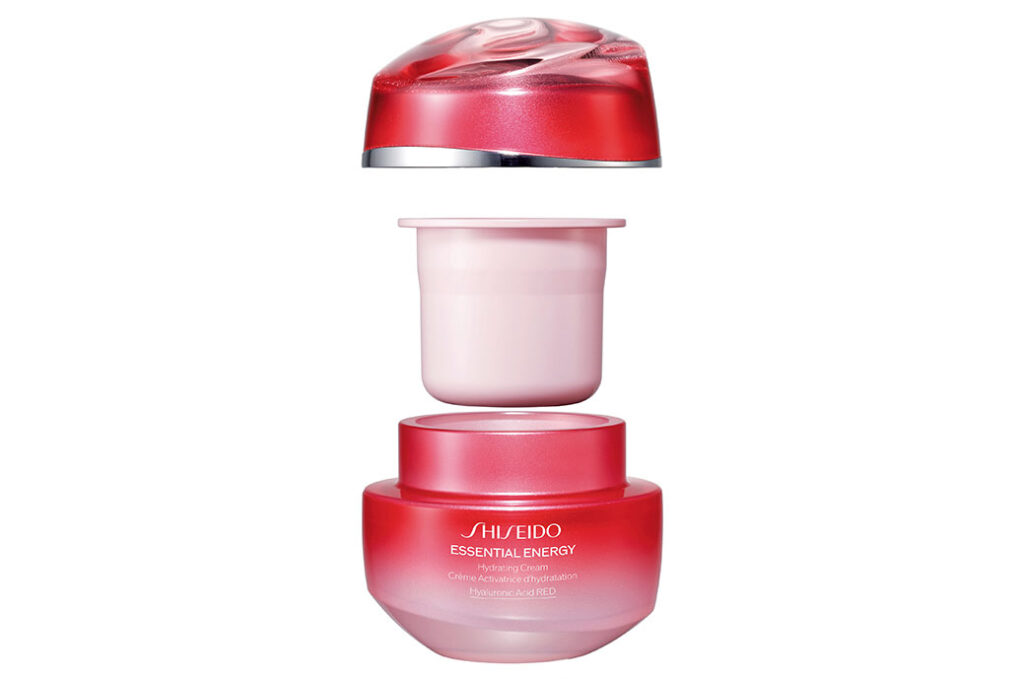 What are your star products?
At Shiseido we have always innovated to improve people's quality of life and this has meant marking many milestones throughout our history.
In 1888, we created Japan's first toothpaste. Among the most recent milestones: the first cosmetic product with biotechnological hyaluronic acid, the first aromachology-propelling slimming product, and the start of a unique avenue of skin research through immunity and blood circulation with Ultimune, and of neuroscience with Essential Energy, a line that improves the dialogue between the skin and the brain to accelerate the benefits of the treatment.
Our flagship products are: Ultimune, (an anti-aging serum that works on the skin's immunity; Future Solution LX, which slows current and future skin aging, and Vital Perfection, our firmness-anti-aging line.
This year, he turns 150 years old. Do you have special actions planned to celebrate it?
We celebrate the culmination of 150 years of research in skincare, and in the future, we will continue to celebrate our understanding of beauty and empower people to live their lives to the fullest, pioneering skincare solutions and helping to create a sustainable future for the planet.
It's 150 years of innovation in treatment. Made in Japan.
We want to thank each and every one of the people who have contributed to our history over these 150 years (consumers, clients, agencies, media...) and for this reason we will create different actions with everyone throughout the year.
What are your sustainability goals?
To create true value, companies have to take action and resolve environmental and social issues.
At Shiseido it is in our mission "Innovate in Beauty for a better world", to contribute to the well-being of people through beauty and sustainability.
Regarding sustainability, we are working in 3 territories: reduction of the carbon footprint, development of sustainable products and obtaining sustainable materials.
What criteria are you implementing in favor of a more sustainable packaging?
By 2025, 100% of our packaging will be recyclable. We are committed to the development of alternative plastics, biomaterials with low environmental impact and naturally biodegradable packaging. When selecting materials, we prioritize the safety of people as well as minimizing the carbon footprint. Our goal is to use 100% sustainable paper by 2023.
In 2020 we launched a new type of sustainable packaging in collaboration with the Japanese company Kaneka.
Do you take into account measures to facilitate the recycling of your products?
Yeah, it's something we're working on. In order to facilitate recycling we have stopped using hot stamping and metallic inks for most brands.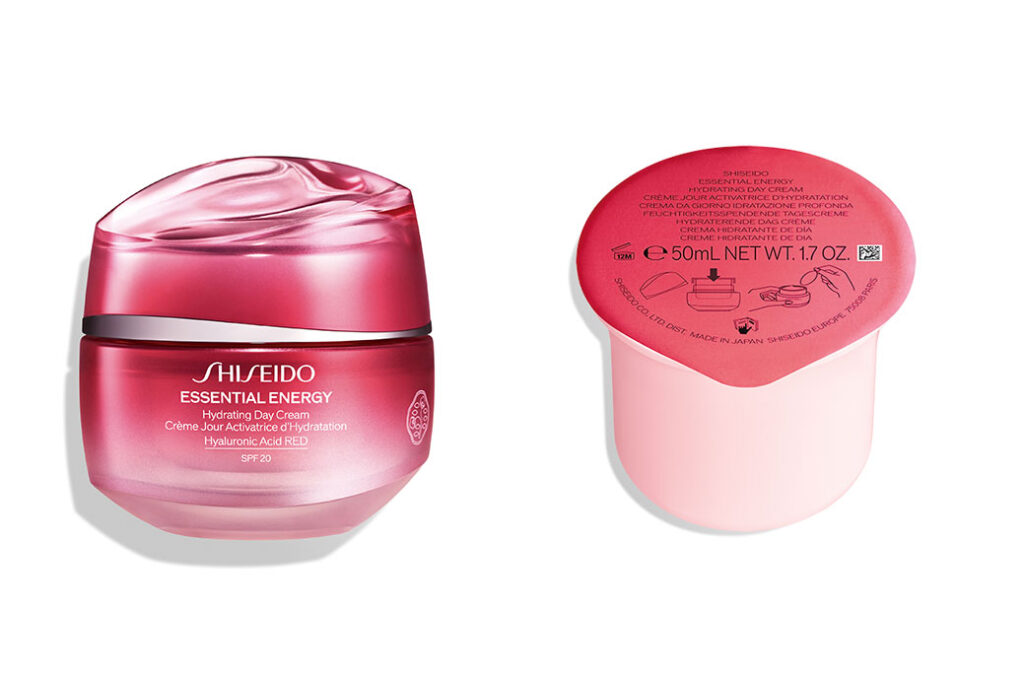 Do you have refill options?
Currently we already have 1200 references globally with spare parts.
Is it more difficult in the world of luxury to be sustainable?
I believe that sustainability is everyone's duty and as a pioneering industry we must also innovate in sustainability while maintaining quality and sensory standards.
Which Shiseido products would you highlight for their packaging?
In the development of the packaging for Shiseido products, we apply the Kansei design theory: it consists of incorporating emotion and affection into the design process to achieve products that are pleasant to use. This means that our products do not have edges that can harm us, that are designed to facilitate use by people with osteoarthritis problems, that transmit emotions. This same philosophy is incorporated by Apple in the design of its products. As products to highlight, Ultimune with its red, rechargeable bottle, and Essential Energy, whose jar is inspired by Japanese Raku ceramics, which symbolizes the beauty of imperfection; we have a product with 64 possibilities. 64 random combinations that add an element of surprise and extol the beauty of imperfection.
On the other hand, the Future Solution line is inspired by the Japanese lacquer technique in its finish and the upper part of the product symbolizes the energy of an emerging drop of water.
In the case of Ginza Eau de Parfum, the bottle is designed by Constance Guisset, who has created an artistic object. Are you always looking for a relationship between art and packaging for your perfumes?
That's right, our Japanese origin is key when designing and art is part of our DNA from the beginning. At Ginza, we feature a cut glass block that reveals undulating curves and houses a pink juice that embodies femininity. In contrast, the black cap in the shape of a dagger that crosses the heart of the bottle symbolizes the strength that each woman harbors within herself. Art and poetry in perfect balance to create a closure that represents a technological innovation that has been patented by Shiseido.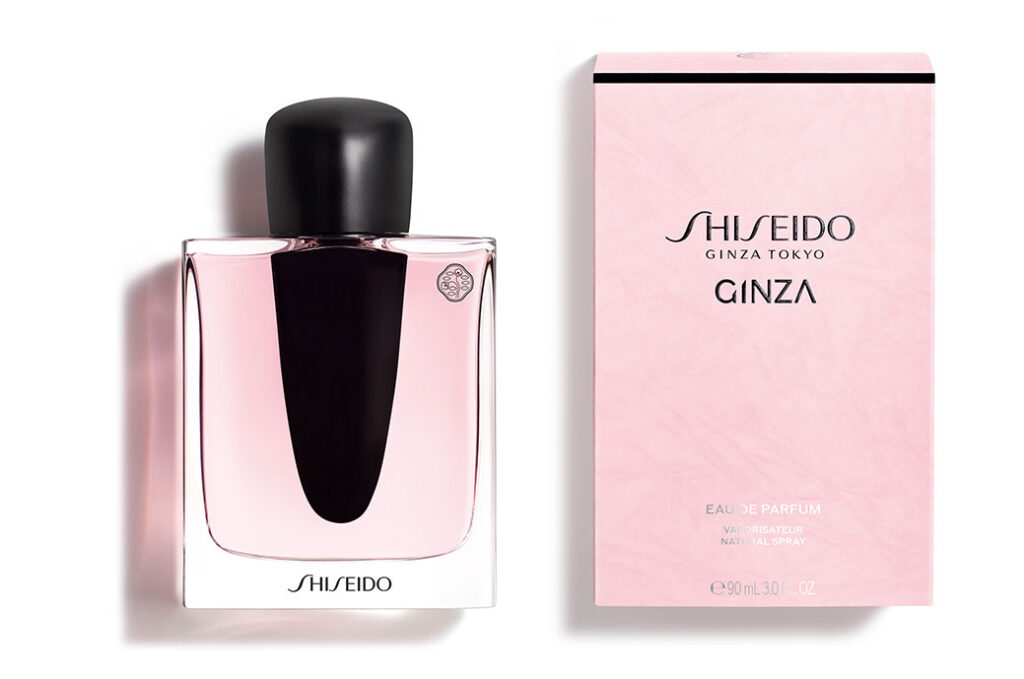 On other occasions, they have collaborated with artists. Do you plan to do it again? Maybe for limited editions?
Of course, in the case of Clé de Peau Beauté, twice a year we launch limited editions in collaboration with artists. This year, we celebrate the brand's 40th anniversary with a limited edition of the Key Radiance Care line born from a collaboration with Kerascoët, the French illustrator duo Marie and Sébastien. This exclusive collection reflects the sophisticated strength and flexibility of the luminosity that emanates from within all women.
The precision and effectiveness of the products with the maximum scientific expression of the leading Japanese brand are elegantly expressed through the use of imaginary plants and flowers, regular straight lines and flexible curves.
What upcoming releases do you have planned?
We begin our 150th anniversary full of very important novelties, all of them with the most advanced cosmetic technology.
Essential Energy, a new complex that guarantees maximum hydration and prevents the first expression lines, thanks to Hyaluronic Acid RED, a trio of high-performance hyaluronic acid, combined with Ginseng root extract from The Lifeblood. The objective is to hydrate the skin but also to teach it to rehydrate itself from the inside. We have the international actress Úrsula Corberó as the image of the line.
Suncare Urban Environment Age Defense SPF 30, a smart sun protection based on a new Shiseido discovery: sunlight can also be good for the skin. Shiseido has managed to create the only daily sun protection, which not only protects from UV rays and external aggressions, but also converts part of the harmful rays into beneficial ones to fight aging, thanks to the innovative Sun Dual CareTM technology. International actress Hunter Schafer is the new face of this unprecedented formulation feat.
Shiseido Men Total Revitalizer: After extensive research, Shiseido has found that men's skin begins to age 10 years earlier than women's. This product seeks to radically improve the performance of the skin and achieve a visibly firm and revitalized appearance. It has been formulated with the revolutionary Rice Bran Technology, managing to visibly combat the 5 main signs of aging and fatigue. In addition, it has the Football Club Barcelona footballer Sergi Roberto as an ambassador for the men's line.