«Bimbo has created new categories that have energized the market thanks to a consumer-focused approach»
The origins of Bimbo are in Mexico, where it began its activities in 1945. Bimbo Iberia began its journey in 1965, the year in which the first sliced ​​bread came onto the market. In 1966, Bony® was born, one of its most iconic cupcakes, along with Tigretón, Bucanero and Pantera Rosa. The launches continue, with all kinds of varieties of sliced ​​bread, and, currently, Bimbo is present in 34 countries on four continents.
Currently, Bimbo is a leader in branded bakery, pastries and pastries. What is your positioning in Spain?
Bimbo Iberia is a multi-brand food company made up of more than 5.000 employees whose purpose is to feed a better world. Throughout its 57 years of history in Spain and more than 75 globally, Bimbo has opted for quality and innovation to bring the best products to Spanish homes.
Bimbo has a broad national presence in Spain, producing and distributing more than 100 leading products in the categories of bread, sweet and savory pastries, and savory snacks through its brands Bimbo®, Silueta®, Oroweat® , The Rustik Bakery®, Donuts®, Donettes®, Bollycao®, La Bella Easo®, Weikis®, ¡Qé!®, Dokyo®, Eidetesa®, Rapiditas® and Takis®.

How many brands do they have in our country? What are the best-selling references?
Without losing its baking origins and thanks to its innovative spirit, Bimbo today has more than 20 brands and more than 100 products that provide trusted solutions for different moments of consumption, both for everyday life and for special moments. Within our categories of bread, pastries, sweet and savory, and salty snacks, the best-selling references are Donuts, Sandwich bread with and without crust, Donettes and Takis.

Bimbo is a brand with more than fifty years of history. What do you think are the keys to your success?
Throughout its more than 50 years of history in Spain, Bimbo has introduced numerous new products on the market that have set trends and reach millions of homes every day. Its purpose is to feed a better world and its recipe to achieve this is the sum of experience, innovation, quality and talent.
Bimbo has revolutionized the shelves of bread, sweet and savory pastries and snacks, creating new categories and value-added products that have boosted the market significantly, thanks to a consumer-focused approach and its strategic commitment to innovation as a transversal axis of the company, from the selection of ingredients and the production process, to distribution and marketing.
In short, Bimbo is a company that is an expert in developing food solutions and its brands are characterized by their ability to constantly adapt to consumer trends, tastes and needs in 3 main axes: health, sustainability and pleasure.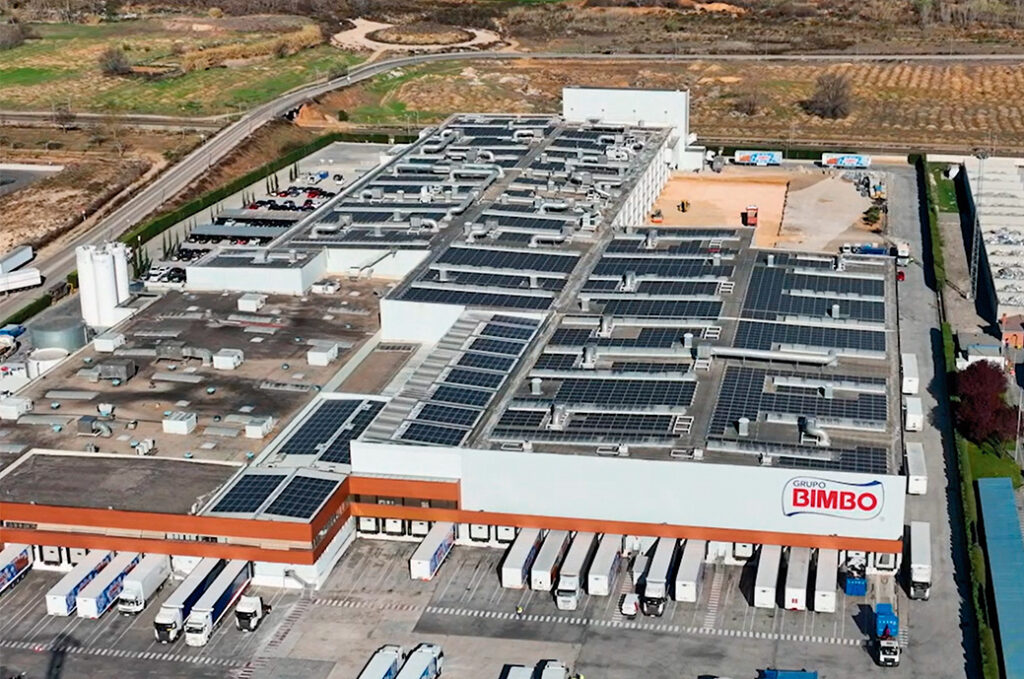 In its beginnings, Pan Bimbo was a novelty in Mexico City because it was wrapped in cellophane. How has your packaging evolved over the years?
Transparent cellophane was a novelty, practical and hygienic, unlike the waxed paper that was used at that time. Since then, Grupo Bimbo has continued to focus on using the most technologically advanced packaging materials, seeking the minimum environmental impact, which over the years has allowed us to reduce bag calibers as much as possible and use fully recyclable materials. In some countries, such as Mexico, they have incorporated D2W technology, which allows packaging to biodegrade when it is not disposed of correctly.
In recent years, social awareness about the manufacturing and accumulation of plastics has grown exponentially. At Bimbo we are working towards more sustainable and environmentally friendly materials, reducing the amount of plastic used in the creation of packaging.
We have set a global goal, where by 2025, all our packaging will be recyclable, biodegradable or compostable.

The image of the Bimbo bear has also been changing, as has the logo. When was the last time it was updated and why?
It was in 1945 that the image of the company emerged as a result of the drawing of a bear on a Christmas card, to which Anita Mata, wife of Jaime Sendra, one of the four founders of the company, added the characteristic details of the hat, the apron and bread under his arm. Image that has been modified and adapted to the times over more than 57 years.
He left his cartoonish and illustrated appearance in 2017 to join the 3D world in 2019. In this way, greater realism, greater detail was achieved and he continued to be the charming bear that continues to bring joy to generations. The move to the 3D world allowed us to better define personality and its expressions.

In 2018, La Bella Easo turned 50 years old. Has it changed much since its beginnings?
With more than 50 years of history, La Bella Easo is the leader in the traditional pastries market thanks to the quality of its products and permanent innovation to respond to consumer demands.
The brand has become a benchmark for family breakfast, including, among other products, muffins, milk bread, croissants and biscuits. Furthermore, it is characterized by continuous innovation in improving its products, incorporating, for example, the 0% added sugars range in its portfolio.

What measures are you implementing in favor of a more sustainable production?
We try to improve our recipes by adding ingredients from vegetables and plants that provide high nutritional benefits, such as fiber. In this way we seek to support responsible diets by increasing plant-based ingredients in product formulations.
On the other hand, we support a circular economy through the use of sustainable packaging and 50% food waste programs, reduce water use in all operations to ensure its conservation, reduce dependence on fossil fuels and reduce emissions of CO2 in all operations. Additionally, we foster a work environment that is diverse, inclusive and accessible to all employees with disabilities.

Do they use renewable energy?
Our electrical energy is of renewable origin, through contracts with our suppliers and, in addition, we are introducing photovoltaic panels on our roofs for our consumption. Currently, they are already in operation at the Puente Genil, Guadalajara, Medina plants and in Portugal in Albergaria and Sintra.
Globally, Grupo Bimbo already operates with 85% renewable energy that comes from the sun and/or wind.

In 2021, Bimbo committed to achieving Zero Net Carbon Emissions by 2050 and has recently been recognized by the Carbon Disclosure Project (CDP) with the highest rating. What is your roadmap to achieve it?
Our path to net zero carbon emissions is as follows: by 2025, 100% Scope 2 emissions and 12,5% ​​Scope 3 emissions; in 2030, 50% Scope 1 emissions and 29% Scope 3 emissions; in 2040, 100% emissions will reach
1 and 2.
We have defined 16 strategies to meet the objectives: mobility, elimination of fossil fuels, refrigerants, innovation of new technologies, efficient energy, renewable energy, storage system, electrical installations, sustainable supply, regenerative agriculture, zero waste, collaborators towards zero emissions (Scope 3), zero-carbon outsourced mobility (scope 3), customer carbon footprint, investment and forest improvement.

Are you working to achieve more sustainable packaging?
Framed in the company's sustainability strategy, we are working on reducing wrapper sizes and packaging densities. In addition, we are including messages to inform you of the type of packaging we are using and where and how it can be recycled.

What percentage of recycled plastic are you using? Is everything recyclable?
One of the examples is the recent launch of the new Bimbo® 50/50 sliced ​​bread, which apart from being 100% recyclable, 30% comes from recycled plastic, from the circular economy, present not only in this product but also in the Bimbo Familiar, Large and Crustless bags.
On the other hand, the Donuts packaging has 80% Recycled PET and the Donuts, Donettes and Penguins blisters have 80% recycled PET.

If the goal is to reduce the amount of plastic, why are muffins packaged individually?
Bimbo works to offer the best foods, promoting responsible consumption, betting on the reduction and control of portion sizes. With individual packaging we also guarantee food safety and the quality of each of our products, which is so essential for our consumers.

What is the Good Neighbor Program?
In our commitment to the planet and people, we created the Good Neighbor Program to contribute to improving the quality of life of the people who live or work around our workplaces.
In 2022, we increase the investment percentage by 33% compared to the previous year. In total 35 initiatives were presented, more than 50% of which have an impact on social institutions; More than 25% are focused on benefiting children and more than 20% on people with disabilities.

What are the objectives of the Global Energy Race? Are you carrying out other similar initiatives?
One of the main objectives of the Bimbo Global Race is to promote sports and healthy habits. This 2022 in Spain we have had a participation of more than 18.000 people in a hybrid format (in-person and virtual), which has allowed us to donate more than 300.000 slices of bread to food banks in Madrid, Barcelona, ​​Valencia and Seville.

Do you have any launch planned in this first half of the year?
In line with the company's sustainability strategy, we have just launched Bimbo® 50/50 Sliced ​​Bread, a product made with 50% white wheat flour and 50% whole wheat flour, which aims to make whole or semi- whole grain products are increasingly entering Spanish homes, incorporating the best of both worlds: the organolepsy and softness of white bread with the nutritional benefits of whole wheat bread. Furthermore, this launch brings another novelty and that is that, in addition to having more sustainable packaging as we mentioned, we have incorporated for the first time the Navilens code, a QR code, similar to standard codes, which allows people with visual disabilities, or With low vision, they can detect the product on the supermarket shelves with their mobile phone and also expand its nutritional information.