The jury of the Arcapack Awards 2021 has awarded ten works the Arcapack Gold Award, recognizing them as the best design in the packaging sector in Spain.
The recipients of the Arcapack Gold Award are the following:
Arcapack Oro Awards for the best beverage packaging, bottle and / or label design: Once upon a time 40 days and 40 nights and Hunger of Lands of Irübi creative studio.
The name Once Upon a Time 40 Days and 40 Nights is due to the time the grapes were macerated for this fun, inspiring and nuanced wine. It is a fairy tale name and with that idea Irübi generated an illustration related to its elaboration and environment, so that each person creates their own story around wine, establishing an emotional bond.
Hambre de Tierras is the jewel of the Canarian winemaker Pedro Sánchez, a tribute wine to his father, whose hand holding the vineyard is engraved on the product. They wanted to convey all that affection with a packaging that evoked a loot, a valuable treasure to discover for anyone who had the bottle in their hands.
Arcapack Oro Award for the best Food packaging: Kaitxo Special Collection de Creative crisis.
Packaging design for Kaitxo's Special Collection limited edition line. This brand, specializing in bean to bar chocolates, needed an exclusive design for special editions in which they use exclusive origin cocoas and / or difficult to obtain.
Arcapack Gold Award for the best Pharmacy and Parapharmacy packaging: k! Ek capsule dispenser IP Triana.
k! ek is an innovative unitized capsule dispenser that allows you to administer pills easily, quickly and hygienically, as well as turning the daily task of obtaining pills into a fun experience. The intuitive, simple and practical design of this container, operated only with the thumb, is accessible, universal, ergonomic and can be used with gloves or gels.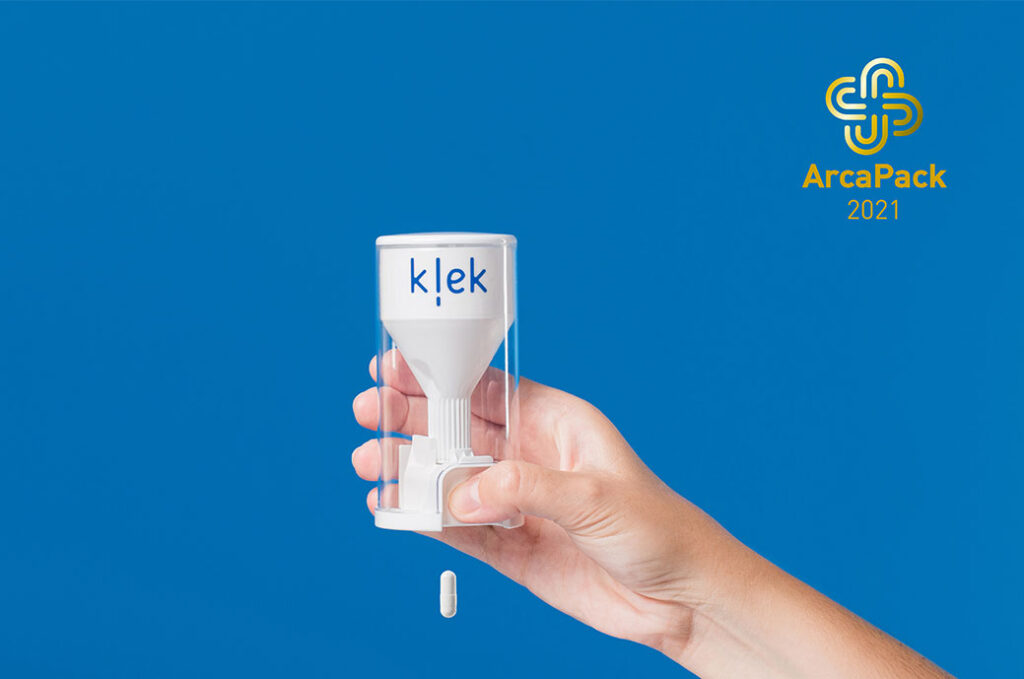 Arcapack Oro Award for the best packaging of Beauty and Perfumery products: Victor Toro de Garrofe.
Packaging design for Victor Toro, «simply natural haircare». A minimalist design in earthy colors and nude tones that uses a numeric code for references. Responding to the brand's eco-responsible conviction, the packaging is recyclable and sustainable, using cardboard made from vegetable waste and monomaterial tubes for the product.
Arcapack Oro Award for the best Premium Pack luxury packaging: Somens Luxury de Garrofe.
Somens Luxury Perfumes presents a collection of four luxury perfumes inspired by the life journey of each one of them. The concept of deep luxury is expressed through materials, finishes and colors. With a zamak cap made to an industrial design, the symbol of the brand is presented. The rigid box, gold and textured in volume, is encoded with a custom ribbon.
Arcapack Gold Award for the best eco-friendly packaging, material reduction, recyclable, sustainable production, etc .: BotCub for Alzamora Group.
The objective of this BotCub model, produced especially for La Torre dairy products, is to reduce the use of cardboard as much as possible, and, at the same time, offer a product that provides differentiation. With its implementation, it has been possible to reduce the use of the previous packaging material by 50% and its transport has been optimized, providing a notable improvement in efficiency and logistics.
Arcapack Gold Award for the best ArcaProx container designed by a student: Mnéme, a playful tool for neurorehabilitation of Albert margalef.
Playful and non-pharmacological tool for cognitive stimulation whose function arises from the diagnosis of dementia of his father. An ailment that affects memory, attention, thought and emotion. Thus, Mnéme supposes the creation of a time, a space and a means in which the patient, together with their therapist or family member, can spend an entertaining, motivational and fun moment.
Arcapack Gold Award granted ex aequo to the best packaging in the Miscellaneous, Containers not included in the other categories: Magic Mirroad by Magic Mirror Design.
As a studio focused on packaging and branding, Maig Mirror Design has developed Magic Mirroad, with a Mad Max ethyl. An extra virgin olive oil for the optimal functioning of the creative engines of marketing that she serves as a designer.
Arcapack Gold Award granted ex aequo to the best packaging in the Miscellaneous, Packaging not included in the other categories: Mind CBD by Marco Arroyo-Vazquez.
Premium ecofriendly packaging of CBD sublingual strips (cannabidol or CBD is a non-psychoactive chemical present in cannabis). This packaging breaks a taboo: mental health. Flavors: eucalyptus (white), licorice (black) and peppermint (green).
The Arcapack Awards are an organization of International Verdicts and have the greatest support of the organizations in the sector in Spain, as well as the most prestigious specialized press in Spain.
The complete list of honors is available at: ARCA verdict 2021